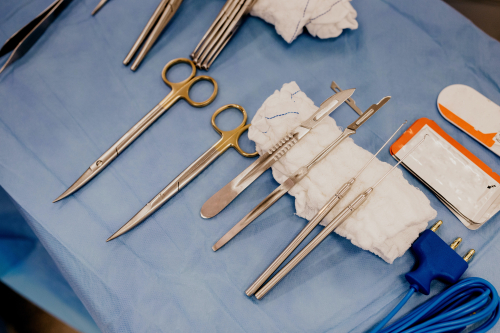 Adalimumab (Humira) in combination with surgery is safe and effective to treat hidradenitis suppurativa.
December 1, 2022
Bechara FG, Podda M, Prens EP, Horvath B, et al. Efficacy and Safety of Adalimumab in Conjunction with Surgery in Moderate to Severe Hidradenitis Suppurativa: The SHARPS Randomized Clinical Trial. JAMA Surgery. 2021 Nov;156(11):1001-1009. PMID: 34406349
---
Maria Aleshin, Stanford School of Medicine
Why was this study done?
Hidradenitis suppurativa (HS), especially in its more severe stages, often requires a combination of medical and surgical treatment. Adalimumab (Humira) is the only FDA approved treatment to date that is available to treat HS. Unfortunately, there have been few studies that have looked at the safety and efficacy of adalimumab in HS patients undergoing skin surgery to treat their HS.
What was the study like?
This study enrolled patients with moderate to severe HS who were eligible for wide-excision surgery to treat HS of the groin or armpits. This type of surgery involves removing the entire area affected by HS and allowing it to heal by leaving it open without stitches.
This study took place at several institutions around the world. A total of 103 patients with moderate to severe HS were randomized into 2 groups (Group 1: adalimumab or Group 2: placebo). All of the patients were planning to undergo surgery to treat their HS. Patients in Group 1 received adalimumab prior to undergoing surgery for 12 weeks and were continued on therapy for an additional 12 weeks after surgery. Patients in Group 2 went through the same protocol however they received placebo instead of adalimumab both before and after surgery.
What did this study find?
This study wanted to see if it was safe for patients to undergo skin surgery while on adalimumab. They found that there was no increase in the risk of wound infections, complications or bleeding observed following surgery in the group that received adalimumab compared to the placebo group. This suggests that it is safe to continue adalimumab around the time of skin surgery.
What are the main takeaways from this study?
Adalimumab in combination with wide-excision skin surgery is safe and effective to treat HS. There is no need to hold adalimumab before or after HS surgery.
---
Photo by Jonathan Borba on Unsplash