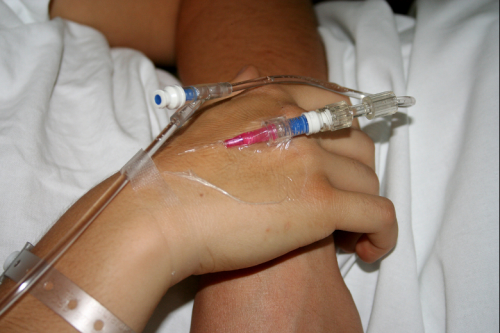 Most Hidradenitis Suppurativa patients improve with infliximab, if the dose is high enough
October 4, 2019
Martin Okun, Fort HealthCare

Paper Citation: Ghias MH, Johnston AD, Kutner AJ, Micheletti RG, et al. High-dose, high-frequency infliximab: A novel treatment paradigm for hidradenitis suppurativa. J Am Acad Dermatol. 2020;82:1094-101.
---
Purpose of this research:
Some Hidradenitis Suppurativa patients improve when they receive infliximab, but we don't know the proper dose of infliximab to give. This research asked whether high-dose infliximab helps Hidradenitis Suppurativa patients.
How was the project done:
Infliximab is an antibody (a protein that combines chemically with another protein). Infliximab combines with tumor necrosis factor, which is a protein produced in patients with Hidradenitis Suppurativa that causes inflammation. Infliximab is given intravenously, and the amount given depends on a patient's weight. Forty-two patients who had never gotten infliximab before received infliximab at a dose of 7.5 milligrams per kilogram (for example, a patient who weighs 220 pounds, or 100 kilograms, receives 750 milligrams). After the first dose, the schedule called for another dose to be given two weeks later, then after that it was given every four weeks. For patients not having success at the dose of 7.5 milligrams per kilogram, the dose was increased to 10 milligrams per kilogram, and the same schedule of intravenous dosing was used.
Results:
Most patients (71%) had good results with infliximab at the dose of 7.5 milligrams per kilogram. For patients who did not have success at this dose, half (50%) had good results after the dose was increased to 10 milligrams per kilogram. Patients had less pain. No serious side effects occurred.
Impact:
This research suggests that infliximab might be worth trying for patients with Hidradenitis Suppurativa. If a lower amount of infliximab is not helping, increasing the dose or getting it every 4 weeks might work better. Limitations on this research are that infliximab is not approved by the FDA for treatment of Hidradenitis Suppurativa. Patients in the study were only checked for side effects for 3 months, so it is possible infliximab is not so safe if it is given for longer than 3 months.


---
Photo by Kym McLeod from FreeImages