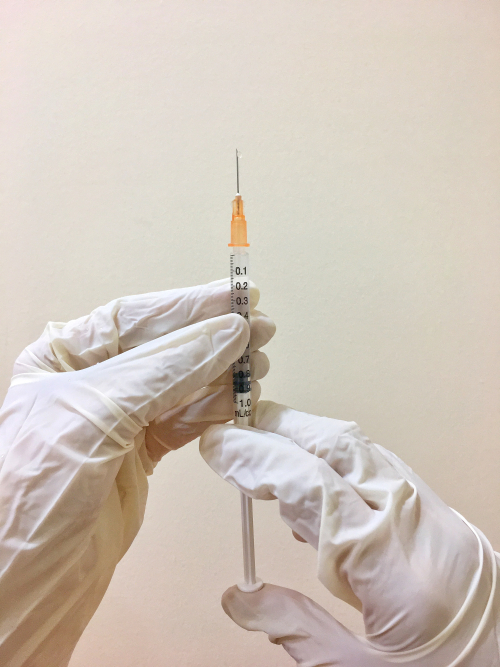 A new treatment option for tunnels in HS
December 1, 2022
Article: "An Open-Label, Prospective, Pilot Study of Hypertonic Saline for Hidradenitis Suppurativa"
Citation: Porter, M., Salian, P., Rosales Santillan, M. , Greif, C. & Kimball, A. (2022). An Open-Label, Prospective, Pilot Study of Hypertonic Saline for Hidradenitis Suppurativa. Dermatologic Surgery, 48 (9), 954-960. doi: 10.1097/DSS.0000000000003510.
Julia Mhlaba, Northwestern Feinberg School of Medicine
Tunnels in HS
A common complication of Hidradenitis Suppurativa is the development of persistent tunnels under the skin, historically known as fistulas or sinus tracts. These tunnels can lead to pain and are often associated with drainage. Typical HS treatments, including topical and oral medications, are often unable to penetrate deeply into these tunnels. Therefore, surgical procedures are often required, including excisions, "de-roofing" procedures and laser therapy.
Testing the use of Hypertonic Saline in HS tunnels
Hypertonic saline is a product used to treat dilated veins in the legs. When injected directly into the veins, it leads to the collapse of veins. The authors of this study sought to evaluate whether injecting a small amount of hypertonic saline into tunnels in HS patient's skin could lead to healing.
The study included 17 patients over the age of 18 with at least one draining tunnel. Hypertonic saline was injected into the tunnel every two weeks until closure of the tract, or for a maximum of three injections.
Potential New Therapeutic Option for the Management of Tunnels in HS
The authors found significant improvement in drainage, redness and swelling after the injections of hypertonic saline as observed by physicians. In addition, patients noted improvement in tunnel severity and pain during physical exam. Patients also were noted to have improvement in a standardized scoring system measuring quality of life with each visit.
Potential side effects of hypertonic saline include pain and stinging at the treated site during injection and ulcers or open wounds in the skin as a result of the injection. Although several patients noted mild stinging during injections, no ulcerations were reported in the patients in the current study.
In summary, injection of hypertonic saline into draining HS tunnels may lead to improvement in pain and drainage. Although this is a small pilot study and larger studies are needed, local hypertonic saline injections may be a potential option for management of draining HS tunnels.