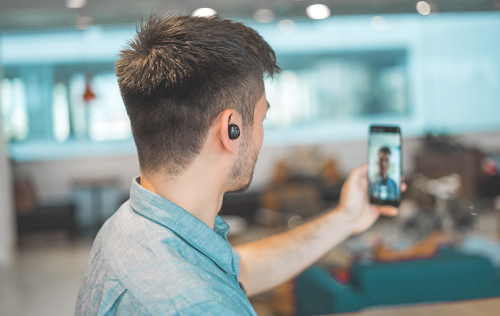 Are people willing to use teledermatology for Hidradenitis Suppurativa care?
June 5, 2020
In new, yet unpublished data from a project by Joslyn Kirby, Ashley Eichelberger, Melissa Butt, Colleen Silva, and Aretha Mosley of Penn State Hershey School of Medicine, patients shared their thoughts and experience about long-distance dermatology visits.
Picture and video chats with a dermatologist?
Coronavirus disease (COVID-19) and quarantine forced many of us to get creative with how we connect friends and family. We send a lot of pictures and interact through videochats. The pandemic also changed how many of us get medical care and in a short time pictures and videochats are being used to take care of many different medical conditions. The use of pictures or video (or both) to deliver dermatology care (a.k.a. teledermatology) has been around for a long time. It wasn't used very much because it had not been covered by most health insurance policies prior to the pandemic. As teledermatology has expanded, providers wondered if people would feel comfortable sending photos or sharing video in sensitive areas, like those involved by hidradenitis suppurativa (HS). The purpose of this survey project was to ask people about the reasons they would or wouldn't use teledermatology for their HS.
More than 140 people responded...
An anonymous survey which was sent to online HS groups in March and responses were collected March-April 2020. In total, 144 people responded to questions about concerns and challenges with teledermatology and in-person appointments.
And the survey said.....
Most participants (81.4%) were between 25-54 years of age. One in four participants had missed an appointment because of the pandemic. One in three participants had missed an appointment prior to the pandemic. Challenges getting to in-person appointments included not being able to get away from school, work, or other duties (17/46), not feeling up to going the appointment (17/46), or too much pain to get to the appointment (16/46). There are some concerns from the participants about teledermatology: First, HS can happen in places where it may be difficult to get photos, and about one in five participants were concerned it would hard to take clear photos; Second, one in three participants had concerns about the security of the photos or data; Third, half of participants were concerned the clinician would not be able to assess their HS as well as an in-person visit. Importantly, the vast majority of participants (94%) were interested in teledermatology with their provider. Aside from the pandemic, most people (89%) were still interested in using teledermatology to get HS care. Most people preferred the type of appointment where they send photos, then they have a video chat with their provider. Fewer people preferred visits that had only photos or only video.
Knowing is half the battle....
This study can help clinicians and patients talk about teledermatology before the appointment so everyone gets the most out of it. Clinicians could share information about how photos are kept secure and this may help people feel better about using teledermatology. It may also help to share 'Tips & Tricks' on how to take clear useful photos. More studies need to be done to compare how satisfied people are after teledermatology visits versus in-person visits for HS. Overall, participants were very interested in teledermatology and it may increase access to excellent HS care and be more convenient!