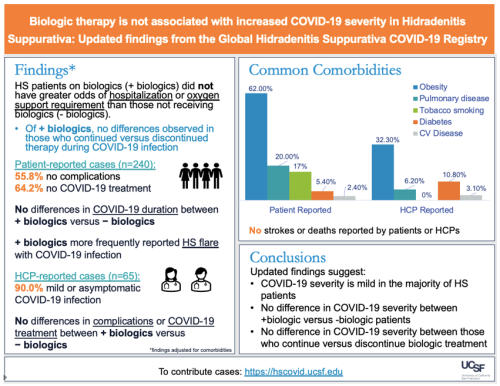 Biologic Therapy is Not Associated With Increased COVID-19 Severity in Those With HS
February 1, 2023
Rahul Masson and Jennifer Hsiao, Keck School of Medicine, University of Southern California
Tagline: This study looked at people with HS who got COVID-19 and examined whether HS treatment with biologics affected the severity of COVID-19 symptoms.
Paper: Williams JC, Alhusayen R, Guilbault S, et al. Biologic Therapy Is Not Associated with Increased COVID-19 Severity in Patients with Hidradenitis Suppurativa: Updated Findings from the Global Hidradenitis Suppurativa COVID-19 Registry. Dermatology. Published online December 23, 2022:1-4. doi:10.1159/000527401
Why was this study done?
Many people with hidradenitis suppurativa (HS) use biologics. (An example of a biologic used for HS treatment is adalimumab, commonly known by the brand name Humira®.) As the COVID-19 pandemic persists, there have been questions surrounding the impact of the use of biologics on COVID-19 outcomes for patients with HS.
What was done in this study?
This study used data from the Global HS Covid-19 Registry to compare the COVID-19 outcomes of patients with HS taking biologics at the time of COVID-19 diagnosis to those receiving non-biologic treatments, such as antibiotics. This study also explored whether there was a difference in COVID-19 outcomes when looking at patients who continued using biologics after getting COVID-19 versus those who stopped.
What did this study find?
A total of 305 people with HS were included in this study. The majority of patients were females (84.6%) and White (63.9%). 240 cases (median age: 33.5 years, range: 13-72 years) were self-reported by patients or their caregivers and 65 cases (median age: 33 years, range: 16-65 years) were reported by a healthcare provider (HCP). Among the 240 self-reported cases, 35 (14.6%) were taking biologics at the time of COVID-19 diagnosis. Among the 65 HCP-reported cases, 36 (55.4%) were taking biologics at the time of COVID-19 diagnosis.
HS patients on biologics did not have an increased risk of hospitalization or need for respiratory support compared to patients who were not on a biologic at the time of HS diagnosis. There were also no differences in COVID-19 infection severity between people with HS who stayed on their biologic versus those who discontinued their biologic after they were diagnosed with COVID-19. Of note, patients on biologic therapy were found to be more likely to have an HS flare compared to those on nonbiologic therapy.
What are the main takeaways from this study?
Patients with HS on biologics have similar COVID-19 outcomes to those on nonbiologic therapy. If a patient with HS is diagnosed with COVID-19 infection, rather than discontinuing medications, it is best to contact their healthcare provider to discuss their HS medications and whether any changes should be made.