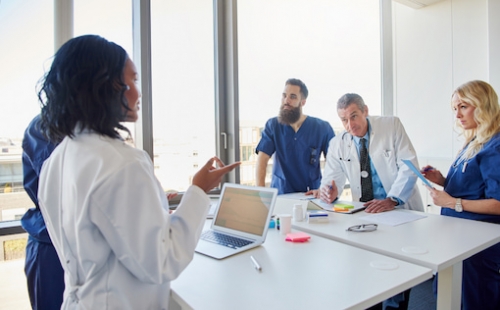 Inter- and intrarater reliability of Hurley staging
August 1, 2019
First published:
01 August 2019
This summary relates to https://doi.org/10.1111/bjd.17588
British Journal of Dermatology, 181, 344–349, August 2019
Summary
Staging disease when the patient comes for their consultation is an important part of estimating the disease's subsequent course (prognosis) and the likely effectiveness of any treatment. Staging means formally assessing the disease's severity including its extent, such as how much of the skin is affected. Hidradenitis suppurativa (HS) is a chronic skin inflammation in the body folds, such as the groin or armpit areas, in which large boils and pustules form, which can cause scarring. There are at least 4 different scoring methods in use to stage the disease, the most popular of which is known as the Hurley staging scheme. This study, which was an international co-operation between departments in Germany, Denmark and Poland, was designed to check the agreement between different dermatologists, including those in training, on their rating of the stage of HS in 5 different patients on two separate occasions. The exercise showed how difficult it is to obtain consistent assessments both between different physicians and with the same physician on separate occasions. The scoring method, in which there was the highest level of agreement, both between different doctors or by the same doctor on different occasions was the one known as the International Hidradenitis Suppurative Scoring System as well as the HS physicians Global Assessment scale. The authors emphasise the importance of training doctors on how to use of these scoring systems in order to maximise their benefits.