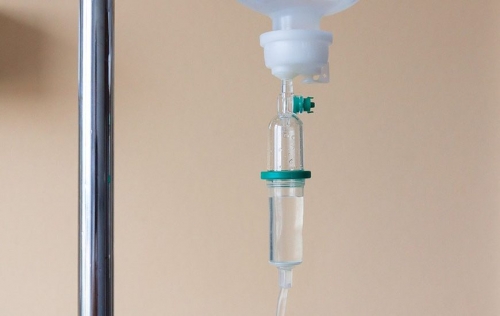 What is the right dose of infliximab for Hidradenitis Suppurativa?
April 20, 2020
Giving infliximab the best chance of working for Hidradenitis Suppurativa (HS) from the start means getting the dose right. In a retrospective study led by Dr. Christopher Sayed of University of North Carolina and published September 2019 in the Journal of the Academy of Dermatology, the authors investigated the variety of ways infliximab was used to treat people with HS.
With flexibility in infliximab dosing, which dose and timing works best?
Infliximab is an intravenous (IV) medication that can help HS. It blocks tumor necrosis factor (TNF)-alpha. It is not FDA approved for treating HS, but has been used in multiple studies and is prescribed for HS by many providers.

The dose of infliximab is based on people's weight in kilograms (kg); one kg equals 2.2 lbs. The dose can vary from 5mg for each kg, and go up to 10mg for each kg. The timing between the doses can also vary. Infliximab might be given every 8 weeks or as often as every 4 weeks. The challenge is that there aren't a lot of studies that have compared how much better a higher dose or shorter time between doses – or both! – are for treating HS.
More than 50 people with HS who received infliximab were studied
The authors looked back at the charts of 52 patients that were treated with infliximab to determine the most effective dose. The authors looked back at the medical notes to see what dose and timing people started with and if the dose or timing were adjusted. The authors' goal was to see how often people stayed on a stable dose, assuming it stayed the same because it helped treat the HS.
Some infliximab doses and timing do work better than others
Most of the patients (87%) in the study had severe HS, Hurley stage III, since infliximab is usually used only in severe cases. Indeed, the majority of patients had already failed antibiotics (90%), adalimumab (85%) and surgery (67%). About 2 out of 3 patients responded to treatment with infliximab. When looking at the starting dose and the dose that caused improvement, the authors found that patients with HS benefit from a dose of 10mg/kg every 8 weeks, or higher doses. Therefore, the authors recommend starting at a dose of 10mg/kg every 8 weeks and increasing to every 6 or 4 weeks if necessary. They did not see an increase in side effects when using these higher doses, but their study did not have a very large number of patients and further study would be helpful.
Start an effective infliximab dose and timing sooner
With this information, we should be able to reduce the amount of time it takes for infliximab to start working and for us to figure out if it's going to work well for an individual. Infliximab started at a dose of 10mg/kg every 8 weeks has the best chance to work quickly. This should avoid the delay of starting at a lower dose and working up to a dose that works. Some patients may still need to increase the dose for best effect, and they will still get to their own best dose more quickly by starting at this dose.